CREATING THE SAFEST, SECURE AND
MOST COST-EFFECTIVE HOTELS
One of the key aspects that differentiate the luxury hotels from the budget hotels is the perception of safety. With Dolphin RFID's new-age locking systems, we create a level playing ground for the budget hotels to compete with the world's best luxury hotels. Dolphin's all weather locks can seamlessly integrate with the property management systems (PMS) of hotels, capture audit trails to ensure that only authorized access and accommodation is allowed, and ensure energy efficiency as power to the rooms is linked to specific room cards only.
Dolphin's locks namely Asteria, Vidala, Sleek and Vision have enabled budget hotels to get locks and safety system of international standards at almost half the cost. The significant difference in cost has enabled the budget hotels to ensure the highest standards of safety and security and create a brand for themselves. The hotels that use Dolphin locks can save cost on imported security systems, energy, and prevent nefarious activities because of the audit trail. It leads to immense cost savings and significant reputation building, and enables hotels to generate much more business, especially from health tourism and pilgrimages, over and above the regular tourists.
Asteria, Vidala, Sleek and Vision are all-weather Locks that seamlessly integrate with PMS of any hotel. All these locks have much-desired features such as elevator control and ability to capture audit trail. The FCC/CE/ANSI approved locks will be a sure value add to the hotel's safety, customer friendliness and brand equity.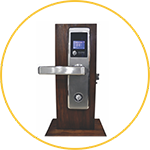 Attractive interactive LED Display.
Indicates Lock Status – "Welcome", "Do Not Disturb", "Wrong Card".
Self-diagnosis helps fast maintenance turn around.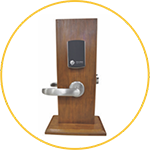 Sliding Reader hides over-ride cylinder.
Both ANSI and European thin mortise versions.
Can use existing mortise to cut costs.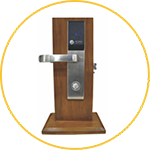 Fully waterproof for outside/sea side use.
Both ANSI and European thin mortise versions.
Incorporates all features of higher priced locks.

CE & FCC Certified.
Both ANSI and European thin mortise versions.
Stainless steel colour lasts more than 10 years.

Hidden RF Reader.
Microwave Technology.
U.S ANSI Standard, 5 Latch Mortise.
Stainless Steel Gold & Black Finish.

RFID Card Based Energy Management.
Works Only With Guest Room Card
Multiple Option – Single Relay And Three Relay.
COMMON FEATURES FOR ALL DOLPHIN LOCKS
RFID – Mifare/NFC
PMS Interface – Opera & IDS enabled
Elevator control
Audit Trail – 240 entries
Power- 4xAAA Alkaline Cells
Low Battery warning
Multiple finishes
Panic Deadbolt Opens automatically
RFID Card Based Energy Management
FCC/CE/ANSI Approved