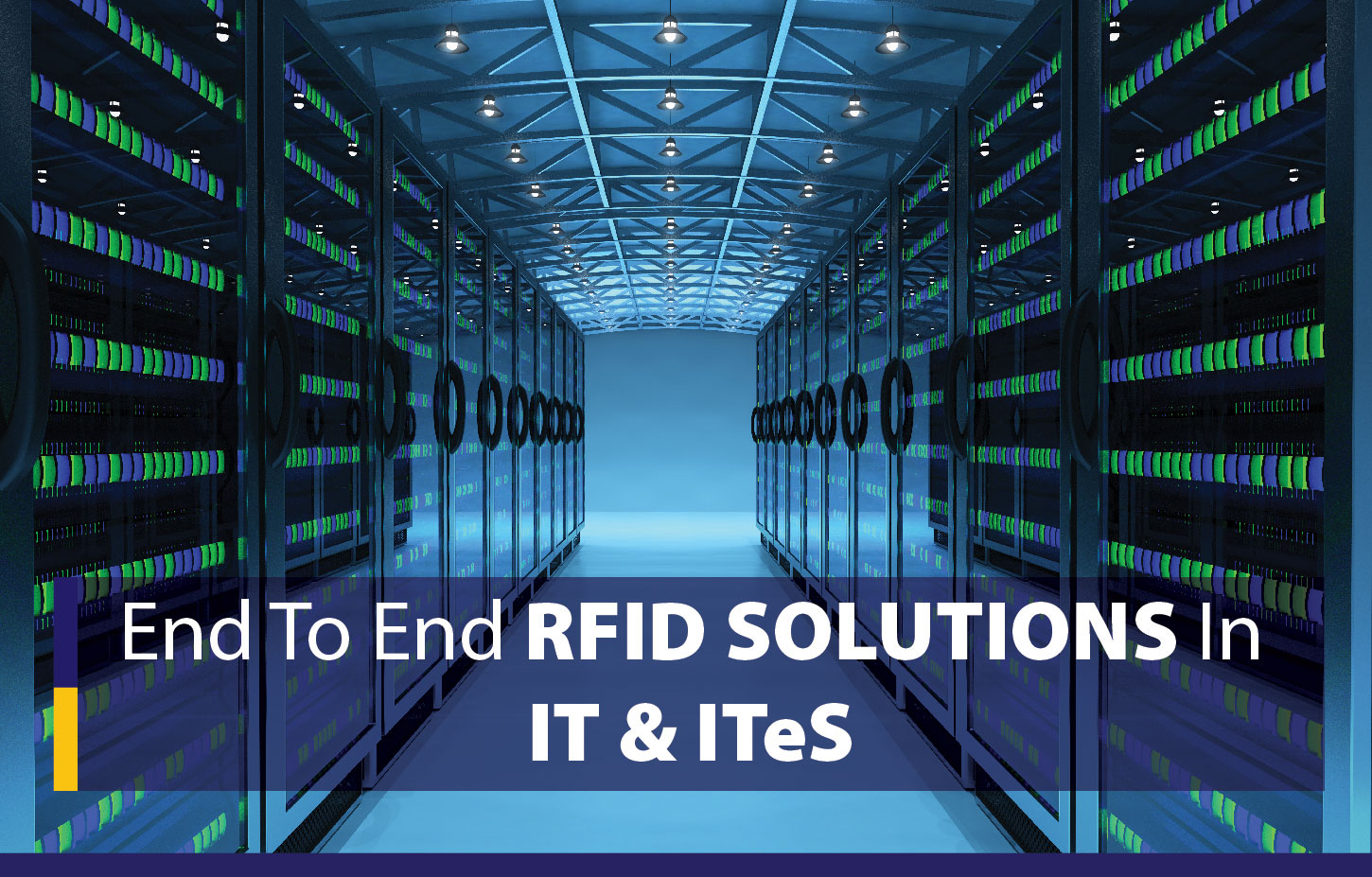 In large IT companies or captive centres of global multinationals, thousands of assets are in operation in one large building. Some assets are fixed (desktops) while some are movable (laptops, tablets etc.). If a laptop is due for maintenance, or a desktop is due for repair, it is a tedious task to manually check tags and identify a specific desktop or laptop. Also, large IT parks with IT companies are often set up in Special Economic Zones (SEZs). At these SEZs, there are stringent rules with regard to IT asset and data management and random checks are a norm. Hence, automated systems for asset tracking, maintenance and management are a must.
RFID scores over manual systems
Even the most meticulous manual system will fail with such large volume of assets to be managed and hence the arising permutations and combinations. An RFID system enables the company to place a small tag on each asset. This tag can be read at the room/ floor level by room readers and also at the entry and exit points. In fact, at the entry/ exit points, it can be matched with the employee's details (batch tags, ID card data etc.) and it can immediately throw up a discrepancy in data and disallow the asset to enter/leave the premise. It leads to safeguarding the assets and almost a 100% efficiency and accuracy in tracking and management of assets.
So, how does it work?
The RFID system is simple to understand and easier to use. Each asset's RFID tag stores all relevant details about the asset. This includes the employee that the asset is assigned to, its manufacturer, its due date of maintenance etc.
The RFID reader can read the asset and check for any anomaly with respect to the asset. The monitoring is constantly on and real-time notifications are issued to the employee using the asset, the manager etc. through SMS.
RFID asset tracking tags can thus seamlessly replace sticky notes used for IT asset tracking. Instead, it can enable to track these assets in real-time for visibility, thus efficiently utilizing the "spend" on IT for better purposes.
It doesn't stop there. Huge IT and ITeS companies are using RFID to tag critical data storage assets such as servers, storage devices that store sensitive data and also laptops and desktops. They use RFID to also store and safeguard each customer's data thereby ensuring that they do not breach any compliance or allow unauthorized access to business critical data.
Data Center Asset Tracking, Maintenance and Management
With businesses becoming increasingly "digital" and Big Data laying the foundation for important initiatives such as Analytics, data has become a critical part of our existence. The need to store this data and to manage it efficiently has assumed significant importance. Over 2.5 Quintillion bytes of data (i.e. 2,500,000,000,000,000,000 bytes) is generated every single day. "Cloud" surely has become a buzzword and a lot of applications and underlying infrastructure is moving to the cloud. However, there are still a lot of critical applications and their underlying infrastructure that needs to be hosted in-house, either due to security concerns or owing to regulatory mandates.
More than 90% of the generated data in "unstructured" which means it is not recorded in tables in an orderly manner. This data could be tweets, emails, videos, photos, customer's purchase logs and even call logs.
Thus, huge IT companies with dedicated business process outsourcing units or global firms establishing their back office in India have huge data centers. It's a struggle to understand where the data is stored – which rack and row and in which data center. Any amount of meticulous manual recording would still always leave some room for unintentional errors. Such mistakes could, however, lead to loss of an asset (which can cost a lot of money) and more importantly, data which could prove fatal to business.
Will Manual tracking systems work?
There are a lot of companies which have tried to deploy the most orderly manual systems. The manual inventory process can be extremely slow to architect, create and deploy. Moreover, it utilizes time and energy of skilled engineers – which by itself is a currency for any IT or ITeS company. The manually tracked data centers also require highly skilled manpower to be recruited to understand the sensitivities of managing data and operating datacenters.
RFID enabled systems
Move to RFID enabled systems. With a tag on each asset and a reader that can track and monitor the asset, RFID changes the whole scenario, makes it simple and helps companies enhance the life of their assets. It also enables such companies to save millions of dollars, otherwise spent on tracking, maintenance and replacement of lost/misplaced IT assets.
Centralized Tracking and monitoring of assets
With RFID systems at its core, tracking and monitoring across delivery centres and data centres all over the world can be done by an IT company from a single centralized location.
Using such systems enables the following:
Real time inventory tracking
Real time inventory data tracking with rack level granularity
Tracking of the life cycle/ history of maintenance of an IT asset
Assignment of tickets and scheduling of maintenances well in advance
Real time notifications
Real-time notifications on asset misplacement can enable prompt action, hence enhancing the probability of tracing the lost/ misplaced asset
Real time notifications on asset maintenance to ensure that the maintenance activity is carried out as per schedule
In-depth analysis:
The system enables the centralized monitoring system to track and filter asset information as per customer, type of asset, location of site, asset ID, manufacturers name etc. This leads to a wealth of drill-down knowledge on asset and provides valuable insights into the purchase decisions.
Customized reports:
The centralized monitoring system can also create customized reports and alerts about their IT assets all over the world. This is invaluable for IT and ITeS companies as it enables them to avert mishaps save costs and prepare for the future with data driven insights on performance and management of IT assets.
One of the fastest growing IT companies, with its BPO arm, were among the early stage implementers of RFID and the results they derived from the implementation was staggering:
They managed to reduce IT asset management cost by about 2.5%. For a company with delivery centers and data centers all over the world and a huge employee base, this created a significant and clearly visible impact on their bottom line.
They were also able to considerably bring down the estimated time for auditing their IT assets all across the globe. They were able to thus deploy their skilled IT manpower for more productive core business functions.
They managed to reduce the inventory tracking expenses by almost 50% and created a fully integrated system which could monitor leasing of assets, the entire asset management cycle and also the ticketing system to address issues
Due to RFID, they were also able to eliminate penalties that could have resulted from not returning the leased IT assets in time.
In the process, they were able to also prove the overwhelming belief of RFID being a costly investment; completely wrong. They managed to recover their investment on RFID within a year.
RFID installations have also enabled ITeS companies such as BPOs and call centres to only allow authorized vehicles into its premises. The information about such vehicles is stored at the system and the RFID reader in the gates can quickly check and help decide if the vehicle can be allowed in.
The IT and ITeS industry (even after having done the above and after having reaped its benefits) has still not scratched the tip of the "RFID opportunity" iceberg. With IoT, Digital, Big Data and Analytics, and Cloud technologies becoming increasingly prominent, RFID in IT is set to grow leaps and bounds.
Dolphin RFID is among the world leaders in end-to-end RFID solutions and capabilities. With our own proprietary JAVA based middleware, we undertake the entire RFID implementation lifecycle – consulting, implementation and post-implementation support and maintenance- for our customers.
Doesn't the future of IT and ITeS look sparkling with an RFID backbone? If you believe in this future and would like to deliberate on it, I am just an email away at sales@dolphinrfid.in