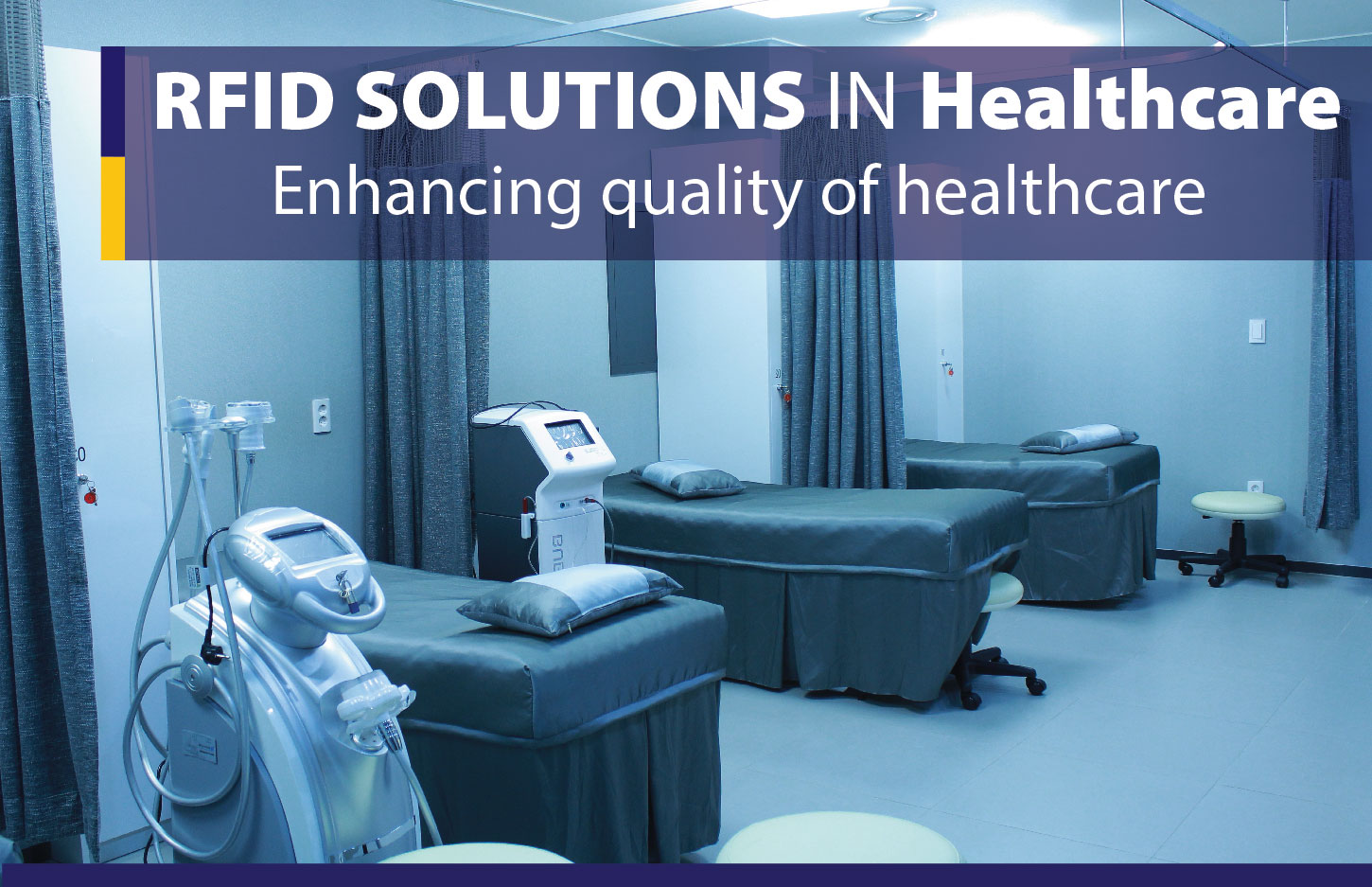 How many times have you heard or read about a surgical procedure that has gone wrong? How many times have you read of incorrect medicine (unintentionally) being administered to the patient? I am sure each person reading this blog would have read about such an incident at least once.
While we sympathize with such cases, it is a matter of lives and adoption of technology is the only way to ensure that such cases become virtually non-existent.
RFID – the bedrock of smart hospitals
A smart, digitized hospital is one wherein data is collated at all important points, stored meticulously and retrieved whenever essential. This practice shifts the attention for medical equipment and devices management to patient care. This leads to better care services and enhances the brand of the hospital.
One of the key areas where RFID plays a critical role in hospitals is during surgical procedures. It is of paramount importance that surgeons and the staff in operation theatres have everything required for the procedure ready with them. By tagging medical devices, it enables hospitals to track all important devices used during surgical procedures in a matter of seconds and thus improve patient safety. Today, different classes of medical devices are required to include a permanent mark containing a unique identifier and manufacturing information. Healthcare is among the largest spenders in RFID technology with over USD 2bn being spent per year.
The obvious advantages of RFID in saving lives and enhancing efficiencies have led to adoption of regulatory practices such as unique device Identification in the US to identify medical devices through their distribution and use. The label on most devices will include a unique device identifier (UDI) in human and machine readable form. Device labellers must also submit certain information about each device to FDA's Global Unique Device Identification Database (GUDID). People can thus, search and download information from the GUDID and check the status of devices used during surgical procedures.
The global hospital asset management market segment commanded 89.7% of the global healthcare asset management market in 2015, growing at a CAGR of more than 35.8% from 2015 to 2020. Equipment management commands the largest share of the healthcare asset management market and it is set to grow further with regulations such as UDI and the enhanced use of RFID in tracking medical devices and surgical equipment.
Dolphin RFID has entered into a tie-up with Esbee Dynamed to ensure that all surgical equipment and medical devices are appropriately tagged and efficiently transported from the auto-claving unit at hospitals to operation theatres in time for surgery. By using RFID, it will also ensure that all such surgical equipment is managed efficiently and is not lost/ misplaced. By doing so, hospitals needn't order an excess number of such devices and equipment. The savings in cost can obviously be used to administer better care and eventually make healthcare much more cost-effective.
The Benefits of an End-to-end RFID Infrastructure in hospitals
A comprehensive RFID infrastructure set-up in hospitals can enable management of patients, doctors and staff as well as all assets and inventory. The records of each patient can be maintained better and hence patient care can be taken to a whole new level. The areas that RFID can positively impact are as below:
Equipment Management:
As per AMR research, about 20% of a hospital's mobile assets (on average) are lost or stolen during their useful lifetime. The average cost works out to more than USD 3000 per item. Though regular maintenance is scheduled for equipment to ensure that they perform effectively, more than 75% of the maintenance time is also spent searching for equipment. By implementing RFID, it will enable easy tracking of equipment and enhance their utilization to the very end of their lives. The maintenance schedules can also be focused towards checking and repairing the equipment as against finding it. This would lead to saving of millions of dollars and also help hospitals to deliver better healthcare services.
Inventory Management:
To safeguard against the risk of running short in an emergency, hospitals stock up spares in their inventory for each equipment. By over-stacking to the tune of approximately 40%, hospitals spend their capital in absolutely insignificant places. Implementation of RFID can free up this crucial capital and enable hospitals to put them to better use.
Patient Tracking and Management
The incidents of patients going missing, babies being swapped, incorrect medicine and dosage being administered are all not uncommon. Despite being as meticulous as possible, human errors do creep in and lead to consequences which are, at times, catastrophic.
By employing RFID technologies, patients who are admitted to hospitals are given RFID enabled wrist bands. The patient's history, details of the ailment, course of administering medicines and time can all be accessed with an RFID reader by reading the information stored in the tags/ linked software. This can virtually eliminate human error and ensure the best healthcare services to the patients.
Document and Data File Tracking
The medical records of patients are critical and the information is essential for better treatment. Many documents and data files, including charts, physician and pharmacy orders, and laboratory reports must circulate to key people and departments to ensure that best collaborative care is administered. By leveraging RFID, the documents and data files will have limited and need-based access. This ensures that patient data is not compromised. This is extremely critical for efficiency as well as to build a great brand for the hospitals.
Savings due to RFID implementations
Hospitals, especially in the US, have leveraged the power of RFID to save millions of dollars per year and effectively use it to impart better healthcare. For instance, the Texas Health Hospital Alliance in Fort Worth has tagged everything that moves including high-value assets, wristbands on patients and the badges of all staff members. By tagging all rental equipment, the hospital saves nearly USD65000 a month on rental fee. This is the case of a small hospital, imagine the savings that a huge hospital or a chain of hospitals can enjoy if they deploy RFID efficiently.
The Future
Our smartphones are set to replace everything from POS machines to credit cards to even RFID tag readers. The mobile phones, with the necessary application interface and middleware would be able to read the information on the tag. All it needs is to be Near Field Communication (NFC) enabled.
We will see regulatory mandates coming in to ensure that RFID tagging is done on all assets and equipment as well as patients, staff and doctors. By using NFC enabled phones, the hospital staff and nurses can read the RFID enabled wrist bands and appropriately administer medicines to patients. They can also check vital stats and alert in case of emergencies through the phone.
The amount of data that RFID implementation will enable to be collected and collated would be immense. This would lead to huge advancements in customized and special healthcare to each patient by appropriate Data Mining. RFID will help to keep a check on the unwanted costs and procurements and thus pass on the benefits of such savings to the ultimate beneficiaries – the patients.
Dolphin RFID readers with proprietary middleware can integrate into any hospital management system and enable seamless implementation of end-to-end RFID.
The India Outlook
India is at the cusp of a Healthcare revolution. India is one of the most preferred destinations for medical tourism due to the quality of healthcare services and its affordability. The implementation of RFID across hospitals will enable them to further improve efficiency and sharpen their focus on healthcare and medical services. This would lead to better and preventive healthcare initiatives and will also put India on the global map as one of the best global destinations for top quality affordable healthcare services.
Through the tie-up with Esbee Dynamed, Dolphin RFID will leave no stone unturned in enabling most of India's hospitals to become RFID enabled. Our experience of having completed projects such as asset management for Tata medical centre at Kolkata and Apollo hospital in Delhi and vehicle management at Breach Candy hospital in Mumbai stands us in good stead to significantly contribute to enhance healthcare in India.